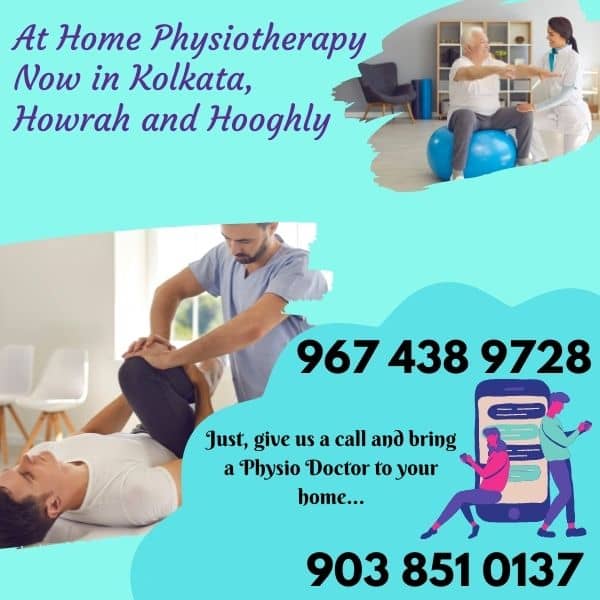 Bring Physio Doctors to your Home
AT HOME PHYSIOTHERAPY SERVICES IN KOLKATA
Get the best at-home Physiotherapy services in Kolkata, Howrah, and Hooghly areas. Our expert physio doctors cover all parts of Kolkata (North and South) and other parts of the WB in providing the best treatment.
We are Comfort Care Physiotherapy Clinic, which brings you high-quality services to your comfort. Hire professionally qualified male and female Physiotherapists to get the best treatment sitting at your home. We can relieve your pain and solve mobility issues.
TYPES OF PHYSIOtherapy AT HOME treatment SERVICES
Explore the various kinds of Physiotherapy at-home services with female physiotherapists available in Kolkata, Howrah, and Hooghly.
---
Neurological Physio Rehabilitation
Get the best Neurological Rehabilitation facility at your doorstep.
---
Post Covid Rehabilitation
Find relief with Post Covid Rehabilitation Program with us.
---
Cardiopulmonary Rehabilitation
Acute Phase of Cardiac Rehabilitation and Outpatient Rehabilitation.
---
Hire Experts and Specialists from Comfort Care
Male and female physio doctors
At our Comfort Physio Care Clinic, we offer a wide range of male and female physio Doctors at your home comfort in Kolkata and surrounding areas.
Our physiotherapists can offer you a wide range of treatment services that you can avail yourself of in your locations.
Physio Doctors for Senior Citizens
Get Physio doctors for the senior citizens in Kolkata, Howrah, and Hooghly. It is known as Geriatric physical therapy that emphasizes the treatment of aged people. They will treat your conditions like joint replacements, osteoporosis, balance disorders, and many more.
Expert Sports physiotherapists
Sports Physio Therapists will help you to cope up with your sports-related injuries people of all ages like kids, adults and elderly persons can take advantage of our Physiotherapy Clinic.
Physio for Orthopedic Treatment
With our Orthopedic Physiotherapists in Kolkata, you can recover from Post Injury, Post Surgery, Sprains, Strains, and repetitive injuries related pains. You will find relief with our Physio care Clinic.
Child Care Physio Specialist
The best child care physio specialists in Kolkata, Howrah, and Hooghly are coming from Comfort-Physio-Care. We emphasize taking special care of the growing children so that they can develop.
Physiotherapy Clinic for Arthritis
Contact our Physiotherapy clinic to get treatment for your Arthritis pain in Kolkata, Howrah, and Hooghly. Physio is a crucial remedy to treat arthritis conditions.
What happens in case of Arthritis (or joint inflammation) conditions
In light of injury, the unspecific immune system is actuated (the body's defense system is the immune system). It might be actuated by harmed tissue flotsam and jetsam in or around the joint. Sometimes, the immune system is automatically activated without any injury, and it's not always good.
When the immune system is triggered, there is an extended blood stream drawing different blood platelets like the White Blood Corpuscles (WBC) etc. in/around the joints.
In the meantime, a reallocation of arteriolar stream produces stasis and hypoxia at the location of the injury.
The resultant limits the invasion of tissues by leukocytes, plasma proteins, and fluid. These causes the red, swollen, and difficult sores characteristic of inflammation.
Get over all kinds of pain that can be recovered with the help of a professional and expert Physiotherapist in West Bengal.
best physio care clinic for back pain relief in kolkata
Frequently Asked Questions – Pain and Physiotherapy
Get treatment for Slipped Disc, Bulging Disc & Back Pain:
When to jell from the disc leaks, it may produce pressure in the spinal cord or nerve roots, causing neck pain or low back pain that goes to the hands or legs. This is commonly acknowledged as a herniated disc, prolapsed disc, or slipped disc. Slip disc or slipped disc is one of the most common causes of sciatica.
Why Choose Comfort Physio Care
Why should you choose Comfort Physio Care for physiotherapy treatment in the areas of Kolkata, Howrah, and Hooghly? Let's find out.
Best Home Care Physio
Our male and lady physio doctors are specialized to provide treatment to your home comfort.
Certified and Expert
All our physiotherapists are certified and experts in their fields. They will do what is best for you.
Affordable Physio Services
Comfort Physio Care provides affordable physio services at your home comfort at ₹500/-, only.
Online Consultation
Anyone can also consult with our Physio Doctors instantly, with online mode. It cost only ₹100/ in getting expert consultation.
Book an Appointment at your home
You can always book an appointment with our male and lady physio doctors at your home to get the treatment. This facility is currently available in most of the areas in Kolkata (including north and south), greater parts of the Howrah, and Hooghly districts.
Don't worry if you have an old patient at your home who is having issues with movement. And that can be a woman too. Our Female Physio doctors are always ready to help those aged people with the best treatment.