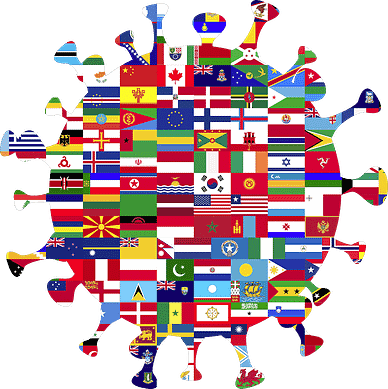 The covid-19 vaccine has been made, but still, India has been going through an unrivaled rise in COVID-19 cases over the last few weeks with the countries tally of new infections touching 4 lakhs. Now various questions are coming in people's mind –
WHEN WILL THE COVID-19 CURSE END?
From the past few months we are assuming new dates every day, when everything will be normal but experts are thinking otherwise as this 'New normal' will be there for at least some more years. So going back will not be an option rather adapting the 'New normal' will be wiser decision.
SARS-CoV-2 will not disappear but will be weaker than other flu viruses and will remain imperishable in this world. We can hope for Covid relief if everyone gets the vaccine.
 What is the Future of the World?
This Pandemic will turn into an epidemic and then this epidemic will remain in this world. Most epidemic disappears once population gain HERD immunity against it and the pathogens have too few vulnerable bodies available as host for its self-propagation. This HERD protection comes through the combination of natural immunity of the people who have gone through the infection and vaccination of the rest population. But SARS-CoV-2 plays a tricky game here. Experts are saying we may never achieve HERD immunity, that's a recent study by Christopher Murray at THE UNIVERSITY OF WASHINGTON and Peter Piot at LONDON SCHOOL OF HYGIENE AND TROPICAL MEDICINE.
The actual reason of this is the new mutants almost behave exclusively like a new virus. A clinical vaccine trial in South Africa portrays that people in the placebo group who had previously been infected with one strain has no immunity against the new one and becomes reinfected.
WHAT IS THE WAY?
The only way that leaves to gain HERD immunity is vaccination. Efficaciously some of the shots available today are still effective against new variants as well as upcoming variants. That's why nation wise vaccination program has been already imposed worldwide.
 HOW COVID-19 VACCINE WORKS? DOES IT REALLY WORK?
Now a day's various questions are coming in people's mind regarding the vaccines amongst them most common question arising is 'does vaccine really works against covid?'
The answer is 'Yes', covid vaccines are safe and proven effective against COVID-19. However, efficacy differs. Vaccine efficacy describes the percentage of reduction in disease during the clinical trial.
How do these vaccines work?  
In a sentence, the COVID-19 vaccine work by introducing our immune system to an inactive form of SARS-CoV-2 or its part. It never causes COVID19 but enables the body to fight against the virus.
There are 12 Vaccines against COVID-19 that got authorization for use around the world.
These vaccines work mainly in 4 ways:
mRNA Vaccines
viral vector vaccines
sub-unit vaccines
inactive vaccine
mRNA vaccine:
BioNTech-Pfizer and Moderna developed the COVID-19 mRNA vaccine is the first mRNA vaccine authorized to use on the human body.
This vaccine carries chemically synthesize messenger (m)RNA that contains the information necessary for our own cell to make the SARS-CoV-2 spike protein. Our cell presents it to our body's immune system, which response by creating antibodies and developing longer-lasting immunity in the form of T cells and B cells response.
Researchers have reported BioNTech-Pfizer vaccine efficacy rate is 95% and Moderna's efficacy rate is 94.5%
Viral Vector vaccine:
The Oxford-AstraZeneca, Sputnik V, and Johnson & Johnson COVID-19 vaccines are all viral vector vaccines. All vaccines use different adenovirus as vectors and deliver the gene for the spike protein to the cell. The cells then make spike proteins and deliver them to our immune system.
Researchers have reported Oxford's vaccine efficacy rate above 70%, Johnson & Jonson's vaccine efficacy rate 66% worldwide and 73% in USA and Sputnik v shows efficacy rate 91.4%
Sub-unit Vaccine:
The Novavax COVID-19 vaccine is a subunit vaccine that uses only a part of the virus (protein) to the cells.
Researchers reports efficacy rate of 89.3%
Inactive Vaccines:
Sinovac, Sinopharm, and Bharat Biotech all are using a chemical called beta-propiolactone to inactivate the SARS-CoV-2 virus in their vaccines, which modifies the virus's genetic material.
Researchers reported sinovac's vaccine efficacy rate 50.38% in Brazil and 91.25% in Turkey, Bharat Biotech's vaccine efficacy rate 78% against mild, moderate and severe effected and 70% against asymptomatic.
WHAT TO DO NOW?
AS responsible GOVETMENT, it's GOVT.'s duty to make sure that all citizens get vaccinated as soon as possible.
Bhutan is the first country where 100% citizens has been already vaccinated. Government of India has already started "world's largest vaccination program".
As a responsible citizen-
Wear masks

Frequent hand washing and use of hand sanitizers

Maintain social distance

Avoid public and social gatherings

Avoid unnecessary traveling.

All together we can defeat this crisis.